Why do you need a check up from a Women's Health Physiotherapist?
Many women enjoy being physically active and after you have a baby there are a lot of changes that happen and returning to your "pre baby body" isn't always as easy as it seems. A women's health physiotherapist can guide you on how to safely with an individualised approach.
But how?
Considerations to take into account are what physical activity you participated in before you had children, how much your body stretches, how strong it is but also how stiff the ligaments and fascia are that could be different due to hormonal properties, how long it has been since you gave birth, whether you are breastfeeding, etc.
Some common problems women can experience post birth are pelvic pain, sexual pain, pelvic organ prolapse, urinary incontinence with stress (physical), urinary incontinence with urge (going to the bathroom more often), faecal incontinence, back pain, shoulder pain and blocked ducts of the breast.
An assessment begins in a private room with relevant questioning to understand more about the patient and their goals. Questions can cover medical history, gynaecological history, pregnancy and birth details, urinary function, bowel function, sexual function and physical function.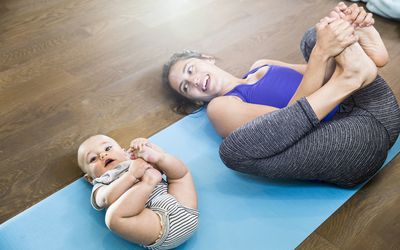 Following this we check abdominal separation which most know as DRAM (Diastasus Rectus Abdominus Muscle separation). This can happen due to pregnancy and the stretch placed upon the linea alba that connects the abdominal muscles. This is checked at rest and upon contraction and this is relevant for core control, function (support to your abdomen and lower back with load) and breathing patterns with exercise.
If relevant there will be a vaginal examination (subject to consent) to determine whether there is movement of fascia (connective tissue that indicates cause of prolapse, heaviness in the vagina), the size of the levator hiatus (this is how much your vagina can stretch – relevant to when placed under load), pelvic floor muscle resting tone (what your pelvic floor is doing at rest) and strength (how your muscles function).
Depending on your goals there will then be a functional assessment to give you the confidence to know what kind of exercise is best for you and an outline of how to progress to your desired type of training.
We encourage women to participate in exercise, sport, classes, self directed exercise that they enjoy and our goal is to empower women to keep strong, moving and active. Feel free to contact us with any queries.
Ryde Road Physiotherapy